Professional Swing Set Services
We install, repair, and restore ALL major swing set brands for customers in New Jersey, Pennsylvania (southeast), Delaware, Maryland, and Florida (Tampa-St. Petersburg-Clearwater).
Have a custom play structure idea in mind? We are happy to work with you to bring your idea to life. Ask us about our custom swing set service today!
Click for Swing Set Service Quote!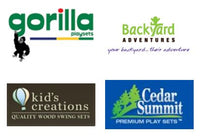 Swingset service offerings

INSTALLATION includes:
1) Complete assembly and secure installation of swing set at desired location on your property.
2) Leveling ground for up to 6 inches of digging, as needed. Additional leveling is an additional fee. 
3) Safety check to make sure set is stable and components are functioning to manufacturer specifications.

RELOCATION includes:
1) Disassembling playset at current location.
2) Transporting playset to new location.
3) Reassembling playset at new site.
4) Safety check and (when applicable) recommendation of any needed maintenance such as repairs, replacement parts, sealant / weather protection.

MAINTENANCE includes:
1) Safety inspection to determine if swing set is functioning properly and with optimal stability checklist.
2) Completion of any recommended playset hardware and wood repairs / replacements.
3) Tighten bolts and other hardware.
4) Sanding and Staining to restore "new playset" beauty (note: playset must be dry 24hrs before and after this service).